information
Restaurant&Bar fai の厳選されたお料理は1日に提供できる数量に限りがございます。
あらかじめお問い合わせ、ご予約くださいませ。
access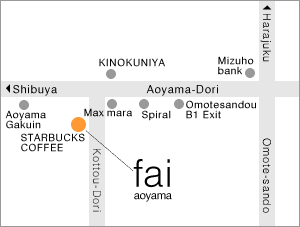 表参道駅徒歩1分
東京メトロ 表参道駅 B1出口を出る。
青山通りを渋谷方向に向かい歩く。
1つ目の信号の交差点の左前方に
STARBUCKS COFFEEがあります。
STARBUCKS COFFEEの入っている
ビルの地下1階・2階になります。
〒107-0062
東京都港区南青山5-10-1 H2 AOYAMA BLDG B1F ・ B2F
TEL 03-5466-3181/ FAX 03-5466-3183
RESTAURANT TIME 15:00-21:00 / BAR TIME 21:00-5:00
1 Minute from Omotesando Station.
Take exit B1 from Omotesando station and walk along Aoyama Dori towards Shibuya.
At the first set of traffic lights, on your left hand side,
on the opposite side of the road you will see Starbucks. Fai is situated in the basement, below Starbucks.
H2 Aoyama Building B1・B2, 5-10-1, Minami aoyama,
Minato-ku, Tokyo 107-0062
TEL 03-5466-3181/ FAX 03-5466-3183
RESTAURANT TIME 15:00-21:00 / BAR TIME 21:00-5:00
Party Information
Restaurant&Bar faiでは結婚式二次会、送別会、DJイベント、各種パーティも承っております。お気軽にお問い合わせください。
(担当:池田)info@fai-aoyama.com
Getting married? Having a leaving party? Want to hold your own event? Fai is available to rent for your own private party / event..
Interested?....For more details please email to the above address.